SANITAS : Jurnal Teknologi dan Seni Kesehatan
p-ISSN : 1978-8843; e-ISSN : 2615-8647
SANITAS: Jurnal Teknologi dan Seni Kesehatan (abb. SANITAS) is an open-access journal published by Politeknik Kesehatan Kemenkes Jakarta II. The journal is published twice a year in June and December. The journal aims to publish scientific research on health, case reports and literature review, to inform the advancement of technology and the art of health care. The full manuscript could be written in Bahasa Indonesia or English.
Focus and Scope
The scope of this journal include: Scientific research of health, Case reports and Literature in field of Electromedic, Radiodiagnostic and Radiotherapy Pharmacy, Food and Drug Analysis, Dental and Orthodontics, Environmental Health, Health Information System, and Nutrition.
Peer Review Process
The article submitted to this journal will be peer-reviewed at least 2 (two) reviewers, both reviewers and authors' identities remain anonymous. The paper will be peer-reviewed at least by one expert from outside and one editor from the journal. The accepted research articles will be available online at Archive menu. The Editor Board shall inform you of the results of the review as soon as possible, at least 2 weeks.
SANITAS has been indexed in Google Scholar, Garuda DIKTI, Dimension Crossref.
Published by Politeknik Kesehatan Kemenkes Jakarta II
Jl. Hang Jebat III/F-3 Jakarta 12120
Tlp./Fax: +62-812-8353-4442
2019-09-21
Detail on Call for papers for Vol 11 No. 2 (2020) 
Vol 11 No 1 (2020): SANITAS Volume 11 Nomor 1 Tahun 2020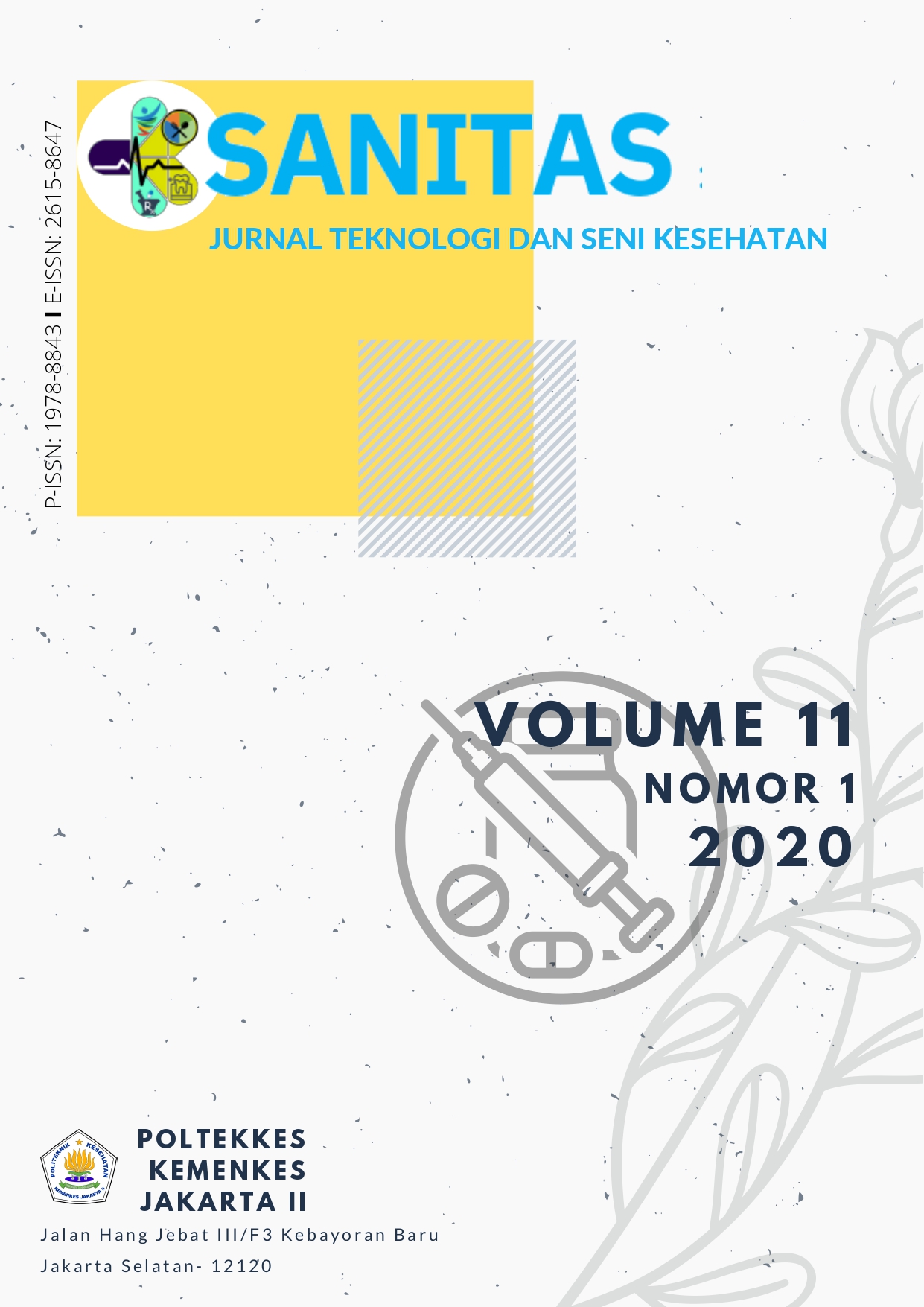 PRAKATA
Puji syukur kepada Tuhan Yang Maha Esa kami panjatkan atas Berkah, Anugerah, Karunia dan Kehendak-Nya maka SANITAS: JURNAL TEKNOLOGI DAN SENI KESEHATAN (disingkat SANITAS) Volume 11 Nomor 1 tahun 2020. dapat diterbitkan. Masa ini adalah masa yang sangat berat bagi kita semua karena dunia tengah mengalami pandemik global diakibatkan virus COVID-19. Propinsi DKI Jakarta sebagai tempat Jurnal SANITAS memberlakukan Pembatasan Sosial Berskala Besar (PSBB), namun tidak mengurangi semangat Tim reviewer dan Tim editorial untuk tetap melaksanakan kegiatan pengelolaan dan penerbitan artikel.
Kami bersyukur edisi awal Tahun 2020 ini dapat terbit tepat pada waktunya, dan pada edisi ini SANITAS menyajikan beberapa artikel ilmiah yang diterbitkan secara bertahap selama bulan Juni. 
Akhir kata, pengelolaan SANITAS Vol. 11 No. 1 tahun 2020 masih terus disempurnakan. Kritik dan saran sangat kami tunggu demi penyempurnaan pengelolaan dan penerbitan SANITAS berikutnya.
TIM REVIEWER 2020:
Dr Moesijanti Y.E Soekatri, MCN, Politeknik Kesehatan Kemenkes Jakarta II
DR. Triwiyanto , Poltekkes Kemenkes Surabaya
DR. Endro Yulianto , Poltekkes Kemenkes Surabaya
Ruth Elenora KS, M.Farm, Apt. Poltekkes Kemenkes Jakarta IIDr. Heru Santoso Wahito Nugroho, Poltekkes Kemenkes Surabaya
Dr Sukmal Fachri, MKes, Politeknik Kesehatan Kemenkes Jambi
Dr. Andi Adriansyah, Universitas Mercu Buana
Dr. Rosyida Permatasari, Universitas Trisakti
DR. Trina Astuti, MPS. Poltekkes Kemenkes Jakarta II
DR. Iskari Ngadiarti, SKM., MSc. Poltekkes Kemenkes Jakarta II
DR. Tjiptorini, M.Kes. Poltekkes Kemenkes Jakarta II
Published: 2020-06-20
View All Issues